An ancient plant, food, herb and medicine, Garlic is a potent and delicious bulb of healing power. Whether you're fighting off a cold, flu, infection, or vampire, garlic is your go-to for its disinfectant, anti-microbial, and expectorant properties. When diluted in a carrier oil (i.e. pure olive oil), garlic is also great to use topically.* It is an ally for skin problems such as eczema, psoriasis, and boils and has been historically used as a wound treatment to ward off infection. What really makes garlic so amazing is its versatility – it's a culinary rock star and adding garlic to your food is the easiest and tastiest way to experience its benefits. The holidays are right around the corner (eek!) & more likely than not, garlic will be in most dishes. While you enjoy its aroma and taste, don't forgot to acknowledge and receive the healing benefits too! If you'd like some garlic-y inspiration, check out the simple and seasonal recipe below & directions for a simple DIY garlic-infused oil!
*Do not apply garlic directly to the skin as it can cause blisters.
---
ROASTED GARLIC – MAPLE – MUSTARD SQUASH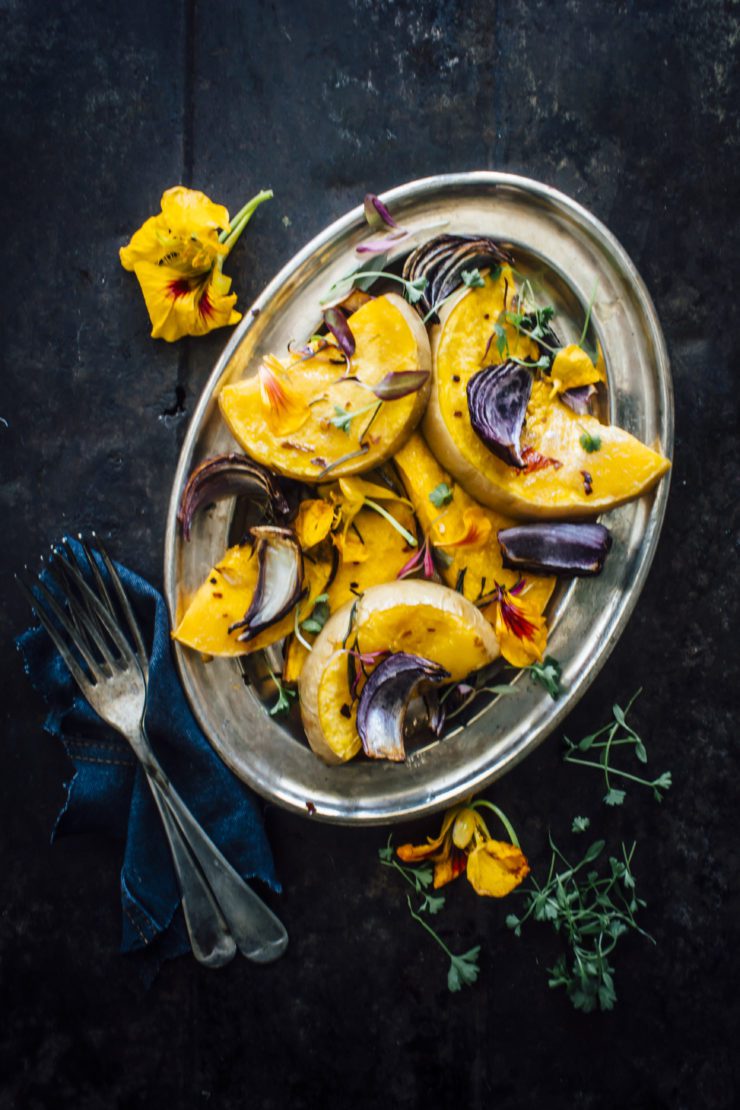 Ingredients:
1 butternut squash
1 red onion
3 (or more!) cloves of garlic [finely chopped]
1 tbsp pure olive oil
2 tbsp maple syrup
1 tbsp whole grain mustard
salt & pepper
Parsley
Edible flowers (optional)
Instructions:
Preheat oven to 180 degrees
Scoop out seeds from squash and cut into 1 inch pieces – leaving the skin on
Chop onion into big 1 inch pieces as well
In a big roasting pan, arrange the squash and onion in a single layer
Sprinkle the garlic on top of the squash and onion
Combine the olive oil, maple syrup and mustard to the pan and toss the ingredients to spread evenly
Bake for 40-50 minutes or until the squash is tender
Salt & pepper to taste
Add fresh parsley on top and/or edible flowers for presentation
*Recipe adapted from http://www.sugaretal.com/2015/10/25/roasted-garlic-maple-mustard-pumpkin/
---
GARLIC-INFUSED OLIVE OIL
Ingredients:
Fresh & whole garlic
Unrefined, pure olive oil
Directions:
Fill a quart sized mason jar about halfway with as much peeled, chopped garlic as needed.
Pour the olive oil into the jar about one to two inches above the chopped garlic.
Seal and leave the jar in a sunlit window for 5-7 days, shaking once a day.
Strain the oil through a cheesecloth when ready and use the now garlic-infused oil for cooking or topical application.
The garlic pieces can be refrigerated and also used in cooking!